Recitals
Performing is an integral part of instruction so multiple performances are scheduled each season as a part of your flute lessons.
All students perform in one formal solo recital annually but there are additional recitals scheduled as well. Flute ensemble participants will participate in a minimum of 3 concerts each year.
Information about each recital is sent out with 8 weeks' notice provided. A small additional fee is billed for the solo recitals to support pianist and rental fees.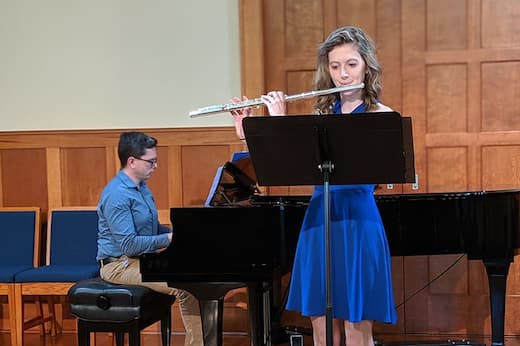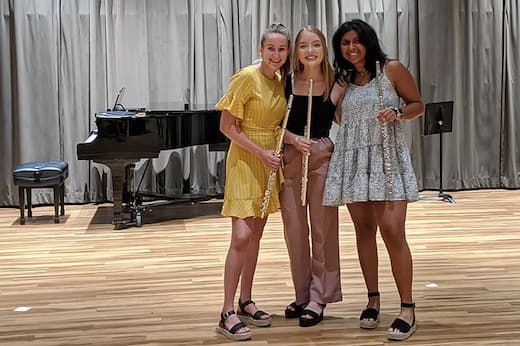 Studio Audition Winners 2021-2022 Season
PMEA Events
PMEA Honors Band
Lawrence Liu
Kaitlyn Dotson, alternate
PMEA All State Band
Ensemble Competitions
NFA High School Flute Choir
Pittsburgh Youth Symphony Orchestra
TRYPO Orchestra
TRYPO Wind Ensemble
Nia Hanington
AJ Schmidt
Elsa Bandli
Rhys Vander Kelen
Mid-Atlantic High School Flute Choir
Kailtyn Dotson
Marilyn Jin
Slippery Rock Honors Flute Ensemble
Tiffany Bratton
Kaitlyn Dotson
Olivia Motkowski
Ella Venters
Elizabeth Zinzell
Macy's Great American Marching Band
Seton Hill Youth Honors Band
AJ Schmidt
Nia Hanington
Elsa Bandli
Rhys Vander Kelen
Kaitlyn Lippman
Solo Competitions
Mid-Atlantic Student Honors Competition
WSO Young Artist Competition
Level I (grade 9 and under)
1st place – Anna Qin
2nd place - AJ Schmidt
3rd place - Nia Hanington
Honorable Mention - Elsa Bandli
Honorable Mention - Kaitlyn Lippman
Level II (grades 10-12)
1st place - Kaitlyn Dotson
COFA Solo Competition
AJ Schmidt, first place - Junior Division